Description
People prefer to put longer content on their websites these days.
Get hand-written, well-researched, 100% unique content for your blog, website, PBNs, web 2.0 sites or whatever.
My articles on EzineArticles.com got more than 300,00 views (check screenshot below)
https://ezinearticles.com/expert/Syd_Hs/71777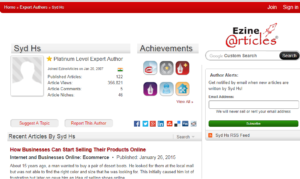 Please Note: I strictly don't work for the following niches:
adult/porn, dating, gambling, music/movies/celebrity, banking/finance/mortgage related, religion related niches, pork, tobacco/alcohol/drugs related and other controversial niches.
Check out some of our samples:
https://medium.com/@anwar.webtrainings/relentless-preparations-the-key-to-high-achievements-7dc880a1d0c2
https://list.ly/list/1u6y-how-to-keep-your-home-clean-and-tidy-even-if-you-are-a-busy-person